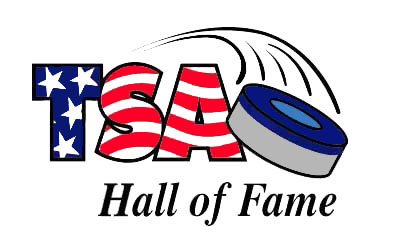 NATIONAL
SHUFFLEBOARD
HALL OF FAME
FIRST INDUCTEE!!!

BOB MILES
INDUCTED INTO "NATIONAL HALL OF FAME"
JULY 30, 1994
BOB MILES was inducted to the National Shuffleboard Hall of Fame (NSHF) during the North American Championships, held at the Sands Regency Casino, Reno, Nevada on July 30, 1994. He was the first inductee!!
The following excerpts on Bob Miles' history induction into the National Shuffleboard Hall of Fame are taken from "THE BOARD TALK," issues Vol. 11, No. 4, April 1994 and Vol. 11, No. 5, May 1994, and Vol. 11, No. 9, September 1994.
"The Shuffleboard Federation
Honors Bob Miles as First Hall
of Fame Inductee at North
American Championships!
A highlight of the North American Championships, held at the Sands Regency Hotel Casino, Reno, Nevada on July 25-31, was a presentation by The Shuffleboard Federation, honoring Bob Miles as the first inductee in the Shuffleboard Hall of Fame. While Bob could not he present at the ceremony, the plaque shown here was presented to him by his shuffler friends."
BOB MILES
In recognition of
the legendary skills which
made you the World Champion,
and the dignity with which
you carried that title

on behalf of
the entire shuffleboard community,
we are proud to honor you as
the first member of the


SHUFFLEBOARD HALL OF FAME
The Shuffleboard Federation
July 30, 1994
Prior to the above actual induction, there were many supporters and testimonials submitted and printed in "THE BOARD TALK" for BOB MILES just prior to the official induction with some highlights excerpted that follow:
"BOB MILES TO BE FIRST MEMBER OF
SHUFFLEBOARD HALL OF FAME"
Legend, pioneer, dominant, the best, way ahead of his time. These are the words used by shuffleboard players who are themselves legends when discussing one of shuffleboards all time greats, Bob Miles , the most feared player of his time.
There are strong feelings in the shuffleboard community that there should be a Hall of Fame for our sport (it's nice to find something that everybody can agree on).
Chances are there won't be anybody donating the land and a building for such a purpose anytime soon; but the lack of a building shouldn't prevent the legends of our sport from being honored and recognized as Hall of Famers.
It is appropriate that Bob Miles be the first member of the Shuffleboard Hall of Fame and he shall be. The Shuffleboard Federation is donating an award that will be presented by his peers in an induction ceremony in Reno, at the 1994 North American Championships. Any players who know Bob and would like to participate in the presentation are welcome.
We sincerely hope Bob is willing and able to receive his award in person. If he cannot, or does not wish to, the presentation will be video taped and sent to him.
Porter White and Hal Perry offered their help and support in organizing this and we're sure other friends of Bob would like to participate.
Hal also suggested that there should be a committee established to induct new members on an annual basis.
We strongly believe such a committee should be established, and that it should be completely independent of The Shuffleboard Federation or any other organization.
A Hall of Fame belongs to the game it honors and we feel it would not be proper for us to serve on such a committee or participate in the selection process.
If this committee becomes a reality, we would certainly lend assistance if asked. Furthermore, we would hope that all members of the shuffleboard community would support it as well."
The following from The Board Talk Editors, June 1994 issue:
Miles to be Inducted in Reno
"The Shuffleboard Federation is donating an award that will be presented to Bob Miles by his peers in a Shufflehoard Hall of Fame induction ceremony at the North American Championships in Reno, July 25-31. Be there for this FIRST!"
Click below to see what some of supporters for Bob Miles induction had to say about him in the above mentioned issues of the "THE BOARD TALK":
(Click on SHUFFLERS' Name below to take you to their BOB MILES Tribute write-up)
AL STEWART's "TRIBUTE" to BOB MILES
Click here to return to the BOB MILES "TRIBUTE" Table--> Return to TABLE
NOTEBOOK (THE BOARD TALK)
(submitted: by Al Stewart)
"I have so many memories of Bob Miles I could fill two or three pages myself. I will put down what you see when he is playing--cowboy boots and a towel hooked under his belt to wipe his hands on.
I would like to say one thing about the Hall of Fame. I sure would hate to see anyone's name ahead of Bob's. To me, he was the #1 player!
(Al Stewart, El Monte, California)"
EDITORS Response: (to Al's above letter)
"The nomination of Bob Miles to the Shuffleboard Hall of Fame in last month's issue prompted phone calls of endorsement from Bill English, Colorado; Billy Chiles, California; and The Shuffleboard Federation, wich plans a special tribute to Bob at the North American Championship Tournament in Reno, July 26-31. We realzie we didn't allow enough time for written responses to make this issue of a Bob Miles Hall of Fame edition and are extending the invitation to May 15. Please send us those tow or three pages, Al, and if anyone has photos of Bob, please share those. We will return them!"
HAL PERRY's "TRIBUTE" to BOB MILES
Click here to return to the BOB MILES "TRIBUTE" Table-->
Return to TABLE
Bob Miles! "A Real Class Act"
By Hal Perry
Sacramento, California
"I have been associated with shuffleboard one way or another for 34 years. Having met Mickey Mickens five years ago, I now think I have either seen, met or played all the great players of this time frame. Certainly, one of the very best (there are more than you might think) was Bob Miles.
I really believe, like Jessie Owens of Olympic fame, Bob was way ahead of his time. He was a tremendous left-hand player, a great lagger, and had the heart of a lion. He was also a joy to be around, with a wonderful personality and always dressed to the nine's. I miss our battles and I miss Bob Miles.
I wish you well, my friend. You were truly one of the great players in the history of this game. And, you know what, Bob? If I listen real good, I can still hear you say, "You can beat me, but you can't eat me" in the middle of so many sessions.
Take care, Robert, I love ya!"
NICK CHAFFIN's "TRIBUTE" to BOB MILES
Click here to return to the BOB MILES "TRIBUTE" Table-->
Return to TABLE
Bob Miles: A Respectful Man

By Nick Chaffin
Roseville, California
"Bob is a fine person. He stayed with me for a little while in 1979. I would listen for hours as he told me all the interesting shuffleboard stories from the old days.
We took a shuffleboard trip together and had a lot of fun. At that time, he was having some trouble with his health and it took something from his game, but he was still a tremendous player. I have seen him play in long sessions and wear down players who were much younger than he was.
He was a very neat person. Bob would come home very late sometimes from playing and he would always take the time to hang up his clothes very neatly.
I remember him telling me, if you went somewhere and made a few dollars, always stay around a little while afterwards and show the people some respect. Then you could always come back later and play again.
I think it would be good to have a Shuffleboard Hall of Fame and certainly Bob should be one of the first persons selected.
I truly hope Bob makes a full recovery."
LES SIMONDS' "TRIBUTE" to BOB MILES
Click here to return to the BOB MILES "TRIBUTE" Table-->
Return to TABLE
Bob 's Red Seersucker Pants
By Les Simonds
Yakima, Washington
"As one of Bob Miles' many admirers, I hope he gets well soon. I would like to relate a story about Bob that I will never forget....
I used to be a shuffleboard "hustler" back in the '70s and '80s. I started my shuffle career in Yakima, Washington. Then I moved to Seattle, Washington, where I perfected my skills at the game.
One time at the Northwest Regional Shuffleboard Tournament in Longview, Wash., I was playing on a team from Washington against Bob's team from Oregon. My team beat Bob's and after having a few beers, I started teasing Bob about his "Red Seersucker Pants." One thing led to another and I challenged him to a game for $100.
I can remember when I started playing him, I was real cocky! But, after several games, I was very humble and broke! He made shots and lagged like nobody I had ever seen before.
Fortunately for me, that next weekend, I teamed up with Doug Buhl and won the doubles tournament, so I got some of my money back.
I'll never forget playing against one of the greatest players in the world.
Oh, those red seersucker pants!"
JACK TYLER's "TRIBUTE" to BOB MILES
Click here to return to the BOB MILES "TRIBUTE" Table--> Return to TABLE
Billy Mays Challenges Bob
By Jack Tyler
Desert Hot Springs, California
"In the mid '60s, I went to a tournament in Garden Grove, California. I was watching Bob Miles playing Billy Mays. Miles won the game.
Billy turned to Miles and said, "I'Il play y'all one game for $100 -- blindfolded." Bob looked at Mays and said, "You know, Billy, if you weren't such a curiousity, I'd shoot you."
I have laughed over this for years!
Bob Miles sure gets my vote for one of the greatest."
BILL ENGLISH's "TRIBUTE" to BOB MILES
Click here to return to the BOB MILES "TRIBUTE" Table--> Return to TABLE
Bob Miles -- The Bus Driver
By Bill English
Loveland, Colorado
"Can you imagine a huge Greyhound bus making a U-turn on a California freeway near San Francisco? This is what happened, according to Bob Miles -- purported bus driver.
Bob, at the time, was a professed bus driver, which fit into his pattern very well -- free transportation to anywhere, and with his ability to gather up loose money, it was a natural. It happened that, since Bob was only using the Greyhound as fret: transportatiion, plus getting paid for it, he heard that in the great gambling town of Reno, Nevada, there was also some shuffleboard action. Checking the listing of schedules, he asked for the next trip to Reno. He had never driven a bus to Reno before, but that was of no concern to him. Anyway, he got the trip from San Francisco to Reno. He confessed to me that he didn't even know where the bus station in Reno was, much less the intermediate stops.
He left San Francisco in the huge bus and proceeded in the general direction to Reno. Just after he had crossed the Golden Gate Bridge, some lady jumped up and said, "Hey, I wanted to get off at San Rafael and you missed the turnoff." Bob told her he was sorry and immediately looked for an opportunity for traffic to allow him to actually U-turn that Greyhound bus on a California freeway just north of San Francisco!
He got that turn accomplished without any casualties and delivered the lady to San Rafael. Upon returning to the freeway heading for Sacramento, Bob informed all the passengers that due to extreme emergency for bus drivers, he was making this trip for the first time and did not know all the stops along the way, and would certainly appreciate any help from the passengers. He also informed the passengers that he only took this trip because the regular driver had been killed in a bus wreck and the company had to take whatever driver was available. He offered his apologies and got everyone's promise that they would not mention this trip to the Greyhound Bus Company.
After that explanation, most of the passengers were standing around the front of the bus offering all kinds of directions and instructions. He made all the stops, thanks to the passengers' help, and also picked up quite a bit of small money by picking up anyone along the road, collecting cash for the rides, hut issuing no tickets.
He said that when he finally got to Reno, he had all the passengers not only telling him his route, but keeping him on constant alert for all speed limits, schools, cops, and other deterrents. With all that, he still arrived at the Reno bus station ahead of schedule.
He said: "Did you know that those damn Greyhounds will do 120 miles an hour with a full load of people?"
Yes, Bob Miles was not only a great shuffleboard player, he was a masterful storyteller -- and most of his stories were actually factual!"
More Bob Miles
Memories:
The "Bob Miles" Award
From
"What's Happening in Shuffleboard" Newsletter
(Vol. 1,No. 3 June/July1978)
(Courtesy of Bill English, Loveland, Colorado)
"How to determine a "World Champ" is a difficult task. In 1941, this was resolved by having an eliminations, not as we know one today, but by using the following methods: The players had to play all of the players, playing "Keep Hammer" (until you scored, the hammer was yours). The boards were 28 feet long and the game was played to 50 points with the board being rewaxed at 25 points. They played 1-2-3 (there was one line on the board with a 3 being a hanger). After a long, grueling session, taking many days, the top 21 players of the world were rated and sanctioned by American Shuffleboard. From that point on, you lost your rating only by being beaten by the players below you and you could only challenge two spots above your rating.
The champs of that era were: 1941-1946, Jimmy VanOrden, Patterson, New Jersey; 1946-1947, Larry Botts, Paisac, New Jersey; 1947-1952, "Kid Spooks" (Leonard Pernowski), Patterson, New Jersey.
A rule change in 1952 was responsible for two world champs that year. The boards were being changed to have two lines on them (as we know them today) and 1-2-3-4 came into effect. This was known as the Western Rule. The Eastern Rule was 1-2-3. In 1952, "Kid Spooks" held the title by the Eastern Rule; John Fabre of Bellflower, California, had the title by Western Rule. In 1953, Bob Miles won both titles.
Bob Miles held this title from 1953 to 1959, defending it 16 times and retiring in 1959 as the undefeated champion. This was the last of what was known as a "Sanctioned World Championship.
What a tremendous and challenging undertaking this would be to have even a Northwest Championship event in which each player was required to play every player in order to determine their rating rather than the eliminations we now have."
PORTER WHITE's "TRIBUTE" to BOB MILES
Click here to return to the BOB MILES "TRIBUTE" Table--> Return to TABLE
From One Champ to Another...

By Porter White
Winterhaven, California
"I want to thank The Board Talk for your interest in World Champion Bob Miles. I hope his knowing that people still remember what a great champion he was will help him in his battle with illness."
GLEN DAVIDSON's "TRIBUTE" to BOB MILES
Click here to return to the BOB MILES "TRIBUTE" Table-->
Return to TABLE
The 30-Hour Marathan
By Glen Davidson
Oklahoma City, Oklahoma
"Bob Miles was one of the greatest players of all time and a gentleman all the way. They used to call him "Mr. Shuffleboard" and that was an appropriate name for him hecause he had class. The man never turned down a game. Even when he wasn't in the best of shape, he would still play and he would not quit. I've seen him lose 12 games in a row and he'd come hack and beat them if they stayed hooked up long enough.
I saw him and Leroy Ledford play for 30 hours one time in Yuba City. After 30 hours, they were even up and neither of them could hardly walk. Thirty hours of walking a board is a lot of hours ! Finally they were so tired, they could hardly stand up, but they wouldn't quit. So I made the suggestion that they each put up $500, play 2 out of 3, and then So get some rest or you're gonna fall over dead. They looked at each other and said, O.K., let's do it. It went right down to the wire in the last game and Bob lagged a 2 or a 3 to go out.
Leroy said to me: I was doing all right until you came in here and suggested that we play 2 out of 3; you caused me to lose $500. I said, well, it was either lose your $500 or lose your life!
Another story about Bob Miles. Bob had a heart attack in the early '70s and hadn't shot much since Setting out of the hospital. He walks into this bar in Longview, Washington, where this guy named Curt Kastigans had been beating everybody. Bob comes in and says I'll play anybody for $1,000 on this board here. Curt had been playing on the other board, but he puts up his $1,000 and starts playing Bob. It was getting down to the wire. Curt was 14 and Bob was 12. He had missed a 3 and Curt covered it with a 2. Bob missed that one and Curt put another cover on. Bob always lagged with his left hand, but he outlagged the 3 with his right hand for the $1,000. Nobody in the house, including Curt, could believe it! Waving his left hand, Bob said: "These guys can't play!"

Email TSA Secretary

Email Webmaster
Back To TSA Home Page Back To Bowers' Corner Home Page
TSA Website Last updated: 02/27/2005 01:17:19 PM
Background Border and Page Designed by Lynda French (Austin Shuffler)